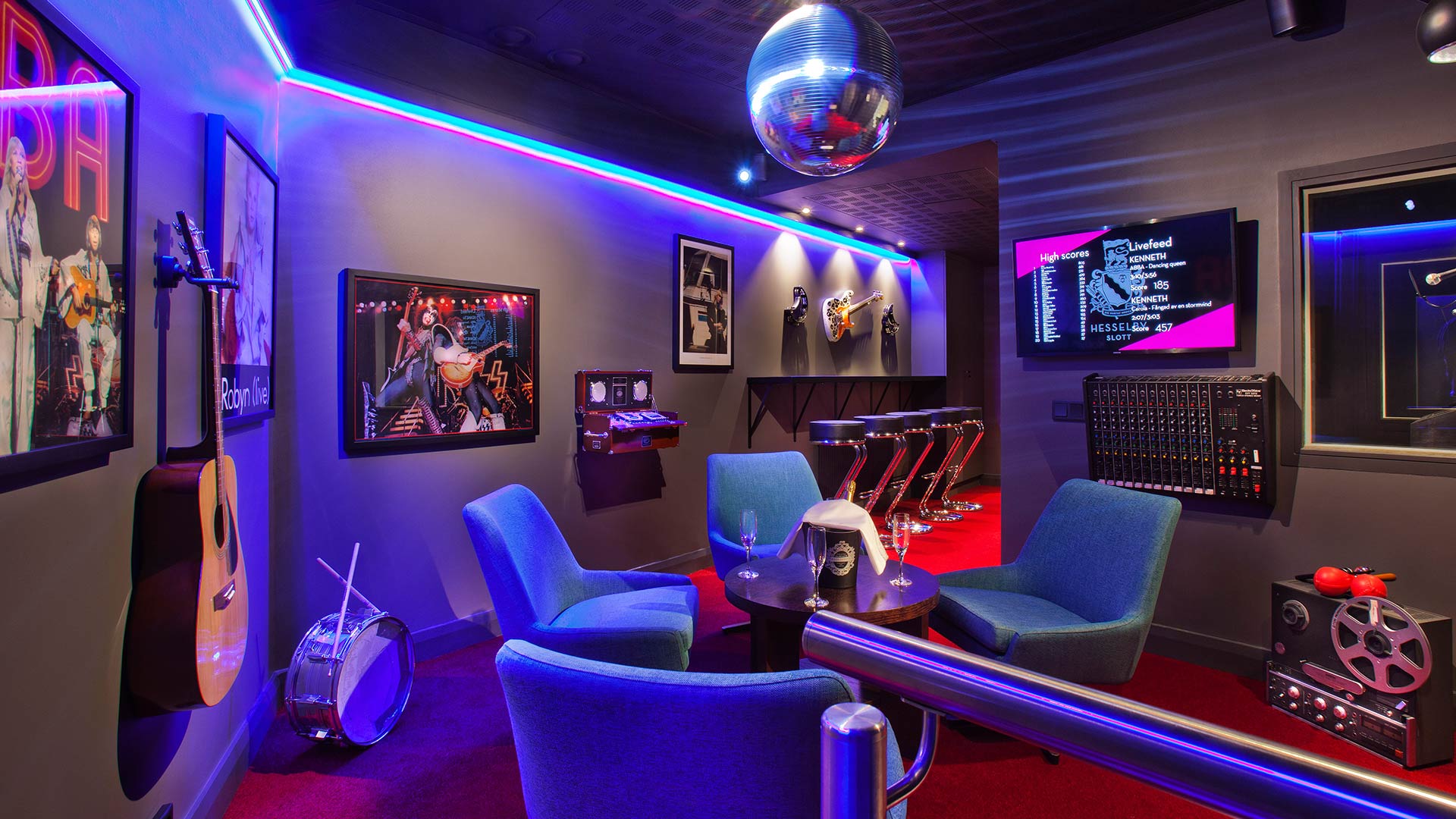 Music Lounge
Who will be the singing star of the night?
Whether it's a corporate event or a wedding, Hesselby Slott's Music Lounge is a perfect spot to relax after a packed day. The Music Lounge is a comfortable living room with the option of its own bar and with two separate music studios allowing you to compete against each other.
Time: About 2 hours
Price: Set-up fee 1,000 SEK + from 156 SEK per person (exclusive VAT)
Numbers: 2–20 people
Live music quiz
Low-key entertainment and a fun contest with a live music quiz artist!
After a rewarding but intense conference, you might just want to relax, chat to your friends and colleagues and enjoy a fun musical experience. Your conference guests settle down in comfortable groups of chairs to chat and our live music quiz artist comes to you – singing and asking questions on everything from music to the thrilling history of Hesselby Slott and, if you want, questions on your company or your conference.
Time:About 1 hour
Numbers: 2–60 people
Price: From 5 000 SEK (exclusive VAT)
Give it all you've got with your colleagues!
From those guys from the office to rock gods and goddesses!
Workshop with Lasse Axelsson
Lasse has many years of experience to strengthen the business by getting the employees to defy their fears and sing out . The entire company, from management to floor staff, will realize what they can accomplish. In the song , it is allowed to fail , but you learn from mistakes and the result is far stronger than one might have suspected . Together you will succeed with the assignment. First Lasse will practice with the group and ensures that no one chickens out. By the end, the group will be able to preform the song really well – to their own surprise.
Time: 1–1.5 hours
Price: From 16 500 SEK (exclusive VAT)
Numbers: 5–100 people
Musical guide
A musical walk with a blast from the past!
A fun experience-historical-musical walk at Hesselby Slott. The walk is to music, i.e. the guide plays the guitar while the guests walk. There'll also be a point where you get to try the hip-hop of the eighteenth century, the minuet!
Time: About 30 minutes
Price: From 3 500 SEK (exclusive VAT)
Numbers: 6–25 people
Online booking
Enquiry
Online booking
If you are more then 22 people or have more questions? Please send a enquiry instead.
Enquiry
You can also book your conference online. Try our online booking here.